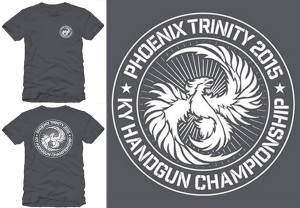 2015 Phoenix Trinity Kentucky Handgun Championship match shirts available for order through September 23rd!
Didn't purchase a shirt when you registered? Would like to pick up an extra one? Can't make the match but still want to rock this awesome design? Here's your chance!
Match participants and spectators can choose match pick up, while those unable to join us at BGSL can have their shirts shipped for $5.
Payments for shirts should be made via Paypal to justin.scarberry@gmail.com
---