Sunday, August 14, 12:30-3:30 PM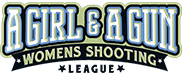 Note: This meeting was originally scheduled for August 21 as announced in the August Happenings BLAST, but it had to be moved due to an unforeseen scheduling conflict for the facilitator. We apologize for the short notice but feel like the exciting opportunity this organization will offer to women shooters at BGSL warrants making the meeting happen sooner rather than postponing it further.
The Blue Grass Sportsmen's League is the home range of the newly formed Lexington Chapter (one of only two in the state) of A Girl & A Gun facilitated by BGSL member and training instructor Natalie Bohon, and the first meeting at BGSL is scheduled for Sunday, August 14, 12:30-3:30pm. This initial meeting will be a 'meet and greet' to introduce women to the chapter's home range and facilitator and each other, and it will feature lunch, a mini-class on firearms safety and handgun fundamentals, with an optional range session afterwards. There is no charge for attending the meeting or the range session (if desired), and both are open to all women who are interested in shooting, BGSL members and non-members alike, so get the word out to all the women you know who might want to come. Contact Natalie for more details and let her know you are coming. You can also sign up for the event with this link on the USCCA website.
As a national organization, A Girl & A Gun gives women shooters at all skill levels and in all areas of the country a chance to socialize, receive classroom instruction, and shoot together regularly. The Lexington chapter will offer the same opportunities to women in this area with the added benefit of introducing them to the entirety of BGSL's virtually unparalleled shooting facilities and disciplines.