Lexington's premier shotgun sports venue, operated by the Blue Grass Sportsmen's League Shotgun Division, Blue Grass Trap, Skeet and Sporting Clays is the Bluegrass region's destination venue for skeet, sporting clays, trap, and 5-stand.
Call the Shotgun Office at 859-858-4458 or send email to bluegrasshotgun100@gmail.com for information on any aspect of BGSL Shotgun Division/Blue Grass Trap, Skeet and Sporting Clays.
**NOTE:
No Tactical Shotguns are allowed on any of BGSL Shotgun's Ranges or in the Patterning Area.
ALL Shot must be LEAD ONLY and NO LARGER THAN #7.5; NO Buckshot, Slugs, Steel, or any type of non-conventional loads.
There are no exceptions to the rules above, and the decision of the Shotgun Manager is final in determinations such as whether a Shotgun is Tactical
**
Trap, Skeet and Sporting Clays on Facebook
Check out the Blue Grass Shotgun Trap, Skeet and Sporting Clays Facebook page for shooting information in KY:
Facilities
Situated on the 1400 acre Blue Grass Sportsmen's League and only 4 miles outside of downtown Wilmore, Bluegrass Shotgun is only a short drive from the southwest side of Lexington.
The venue includes a fully automated sporting clays courses consisting of 16 stations with the level of difficulty indicated on each station, two skeet fields, and a covered 5-stand course overlaid on skeet field 2. In addition to the range facilities, the division has an air-conditioned clubhouse with restroom, a large pavilion with power and restrooms, ample parking and (10) golf carts available for rent that can be used on the courses. Shotguns are available for rent, and some ammo is available for use on our courses.
Trap, Skeet and 5 Stand are lighted and we shoot under the lights on Thursday night.
Open and Friendly for All Ages & Skill Levels
Employees and members of the club are always willing to introduce new shooters to the various sports, and are a great resource to find out about the nuanced rules of each, and how they differ from one another.
Level 1 Shotgun instructors are available for lessons to help you with the basics of all clay target sports.
In addition to individuals, several High School Trap (and Skeet) Teams practice here, as well as the UK Shotgun Team. All receive significant amounts of support from the Shotgun Division, and the Shotgun Division Ranges has been featured in the official magazine of the High School Clay Targets League.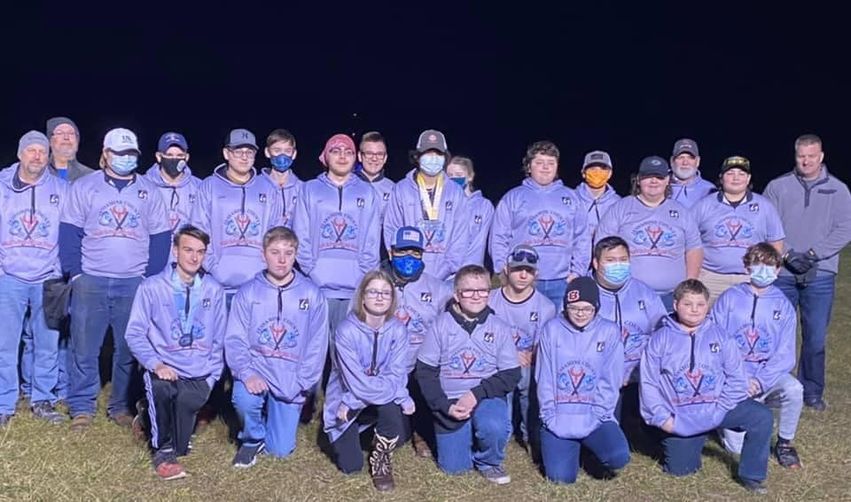 Jessamine County High School Trap Team, January 2021
Open for Corporate Events
Corporate or Organizational events of almost any size can be hosted at Bluegrass Trap, Skeet, and Sporting Clays; call the Shotgun Office at 859-858-4458 to set up something fun for your team.