Rates vary for the different sports, and discounts are given to division members and BGSL members when compared to the public. Guns and Carts are available for rental, and some ammo is available to purchase for use at our range.
Eye and ear protection are REQUIRED when shooting!
Go directly to your sport of interest with the shortcuts below, or browse the page for information on each.
---
Trap
Trap is the oldest of the shotugun games and is modeled on the release of live pigeons but was switched long ago to clay birds thrown in similar trajectories. Trap can be shot as "Singles" — one shot from the 16 yard line, as "Doubles" — one shot each at two birds from the 16 yard line, and–by the serious trap shooters, "Handicap", which is shot much like singles, but a shooter stands back a further distance depending on a rating (handicap).
Rates are expressed on a PER 25 targets basis. i.e. 1 Round of Singles Trap: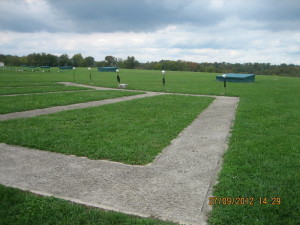 Shotgun Division Members: $6.00
BGSL Members: $7.00
Non BGSL Members: $9.00
YOUTH Shooters (Under 16 years of Age): $6.00
---
Sporting Clays
For those new to shotgun sports, sporting clays can be closely compared to golf. Participants shoot a round of 50 or 100 targets, in squads of 2-8 members on a course laid out on the grounds. The approximately fifteen different stations from which to shoot a 100-bird round are the true test of a shooters ability to adapt. Sporting clays is the clay-target sport which most closely resembles hunting. Targets are thrown on a variety of trajectories with differing angles, speeds, elevations, and distances. No two targets on the course are the same, and shooters will experience everything from springing teals to crossing and quartering targets, and even the quick scamper of a rabbit, a specialty target thrown to bounce across the ground. The sporting clays courses at Bluegrass Skeet and Sporting Clays are a unique way to experience the Kentucky outdoors, right here in the heart of the Bluegrass.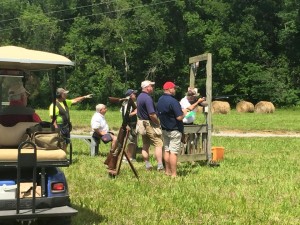 Rates for 100 targets
Division Member $37
BGSL Member $44
Non Member $47
Rates for 50 targets
Division Member $18.50
BGSL Member $22
Non Member $23.50
Cart Rentals
Cart Rentals are $25 per round (4 people per cart maximum).
---
Skeet
The game of skeet is best played by groups of 2-6 in which participants shoot a round of 25 targets from 8 stations on the filed. Clay targets are thrown from two different machines on the perimeter of the field, and cross in front of the shooting stations. Clays are thrown relatively fast, but follow a consistent flight path making it both a challenge for new shooters, and a good way for experienced shooters to hone their skills. The division's two skeet fields are both well lit to accommodate shooting after sunset, and key operated allowing shooters to purchase rounds ahead of time. Shooters can configure the traps to throw on a delay in the event that they are shooting alone, and skeet field 1 operates wirelessly.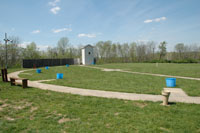 Rates are expressed on a PER 25 targets basis. i.e. 1 Round of Skeet:
Shotgun Division Members: $6.00
BGSL Members: $7.00
Non BGSL Members: $9.00
YOUTH Shooters (Under 16 years of Age): $6.00
---
5-Stand
If you don't have the time to shoot a full round of sporting clays, the game of 5-stand may be for you. The somewhat natural combination of skeet and sporting clays, target presentations are similar to those on the sporting clays course but thrown in the more confined area of skeet field 2. 25 targets are shot from 5 different stations where a shooter will shoot a single and two report-pairs in a rotating order, with a typical round taking between 15 and 30 minutes. The 5-stand field is also a great place to safely play other shotgun games such as 'Killer', an elimination game where shooters leave the game as they miss targets which other shooters are able to break. The Covered 5-Stand setup (at skeet) and usually another uncovered 5-Stand course on the Trap range are set up in the Fall.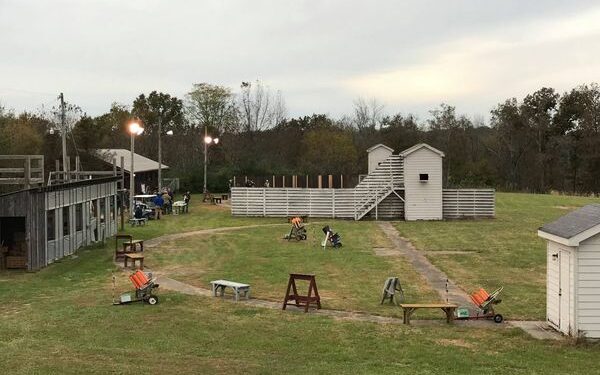 Rates are expressed on the basis of 50 targets:
Shotgun Division Members: $20
BGSL Members: $22
Non BGSL Members: $24
YOUTH Shooters (Under 16 years of Age): $20