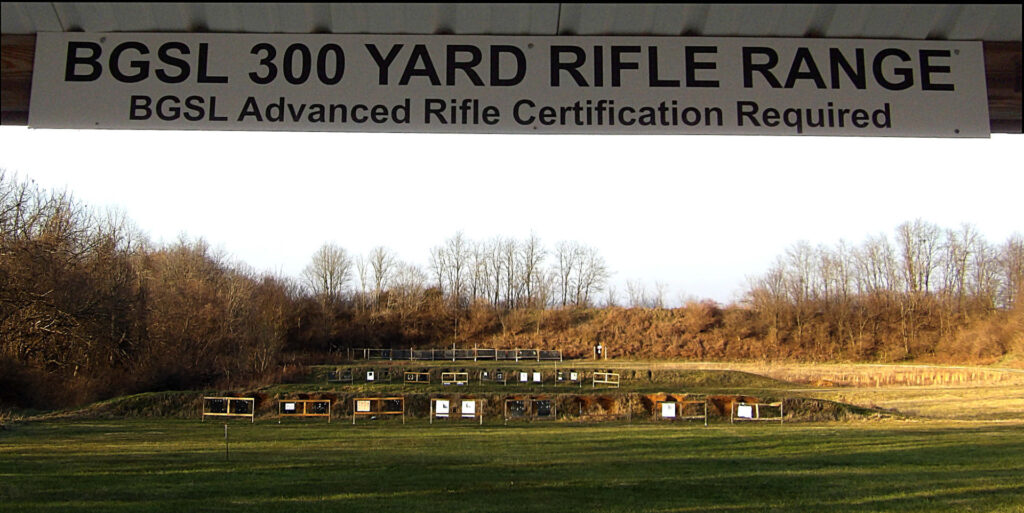 The Rifle Division operates the Advanced Rifle range which features 100, 200 and 300-yard target posts. You may drive to the target frames to post targets. Please see range calendar below for available hours. Only members who have qualified may shoot on this range.
General Purpose, 300 Yard Rifle & Practical Shooting Pits
See  BGSL Rangemaster at the General Purpose Range for details.
Hours of Operation
Click Here: Hours of Operation
---
For information regarding Rifle Range please contact:  Steve DuVall scduvall49@gmail.com or Brud Sheets at clsheats@roadrunner.com
---
ABRA 2020
| | | | |
| --- | --- | --- | --- |
| Match | Month | Date | Start Time |
| ABRA | April | 19th | 3:00 PM |
| ABRA | April | 29th | 6:00 PM |
| ABRA | May | 17th | 3:00 PM |
| ABRA | May | 27th | 6:00 PM |
| ABRA Club Tournament | June | 7th | 3:00 PM |
| ABRA | June | 24th | 6:00 PM |
| ABRA | July | 12th | 3:00 PM |
| ABRA | July | 22nd | 6:00 PM |
| ABRA | Aug | 9th | 3:00 PM |
| ABRA | Aug | 26th | 6:00 PM |
| ABRA | Sept | 13th | 3:00 PM |
| ABRA | Sept | 30th | 5:15 PM |
| ABRA KY State Tournament | Oct | 11th | 1:30 PM |
| ABRA | Oct | 21st | 4:30 PM |
| ABRA | Nov | 1st | 3:00 PM |
---
2020 Centerfire Benchrest Dates
| | | | |
| --- | --- | --- | --- |
| Match | Month | Date | Start Time |
| 200 yd Group Match | March | 29th | 9:00 AM |
| UBR -100/200 yds | April | 26th | 9:00 AM |
| UBR -100/200 yds | May | 24th | 9:00 AM |
| UBR -100/200 yds | Jun | 28th | 9:00 AM |
| UBR -100/200 yds | July | 26th | 9:00 AM |
| UBR – Mike Niblett Memorial 100/200 yds | Aug | 30th | 9:00 AM |
| UBR -100/200 yds | Sept | 27th | 9:00 AM |
CenterfireIBS/UBR contact Brud Sheats  clsheats@roadrunner.com
---
The Rifle division officers for 2019-2020 are as follows:
Brud Sheats, President
859-588-1526
Don Smallwood, Director (Main club BOD)
615-887-3110
jdonsmallwood@gmail.com
Steve DuVall, Secretary/Treasurer
scduvall49@gmail.com
Board director Don Smallwood jdonsmallwood@gmail.com