Any day is a great day for shooting at BGSL, but May 30th was especially so as the Steel Cats took home top prize in both Junior and Senior divisions at their local Scholastic Pistol Program match.  We had a great showing of 59 shooters representing 5 teams and 4 states (honorable mention to Union Grove High School for farthest driven- 7 hours from Wisconsin), along with coaching staff and parents.
Steel Cats Junior Rimfire squad (Josh Baldridge, Thomas Mansfield, Logan Avery, and Blake Flannery) took 1st place out of 9 squads.  Steel Cats Senior Centerfire squad (team captain Michael Ryan Arnold, Ryan Hellyer, Austin Arnold, and Seth Kraman) placed 1st out of 3 squads.  High Overall went to Josh Baldridge, who knocked it out of the park yet again with a personal best time.  Teammates Logan Avery, Thomas Mansfield, Ryan Hellyer, and Sam Owens all also posted personal bests for the match.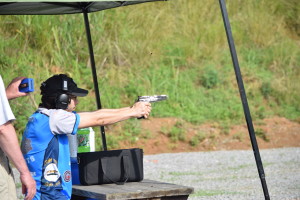 The team ended the day with a fundraiser Rimfire Rifle side match, open to both students and adults in attendance.  48 shooters gave it their best in Irons and Optics categories, and BGSL/Steel Cats were again well represented in the standings.  Josh Baldridge took 1st Place Student Athlete Irons, his dad Charles Baldridge 1st Adult Irons and 3rd Adult Optics, Steel Cats Coach Brandon Ironmonger 1st Adult Optics, brothers and teammates Michael Ryan and Austin Arnold took 1st and 2nd Student Athlete Optics while their dad, Mike Arnold, took 2nd Adult Optics.  Michael Ryan was also Rifle Match High Overall.  Not to be outdone, Hannah Ironmonger, Julie Hartley and Myria Ironmonger swept Lady Optics with respective 1st, 2nd, and 3rd places.

A total of $15,500 in endowment funds were awarded to winning teams/individuals, $10,000 of which came from BGSL-E.  The endowment accounts are maintained by the Midway USA Foundation and participating teams can write grants to obtain some of these funds annually to help fund team needs. Individuals can donate by visiting midwayusafoundation.com.  The Steel Cats will be adding $8,500 to their endowment based on their match achievements.